PRODUCTS
HOME
>

PRODUCTS

>

PIAnO Signature Functions
PIAnO Signature Functions
It is an AI-based optimal design software using PIAnO(Process Integration, Automation and Optimization) and AIDesigner. It works on expensive analysis efficientlywith process automation and AI automatically suggests the optimal design technique so that beginners can easily draw an optimal solution. Also, it produces and provides high quality reports using AIDesigner by it self.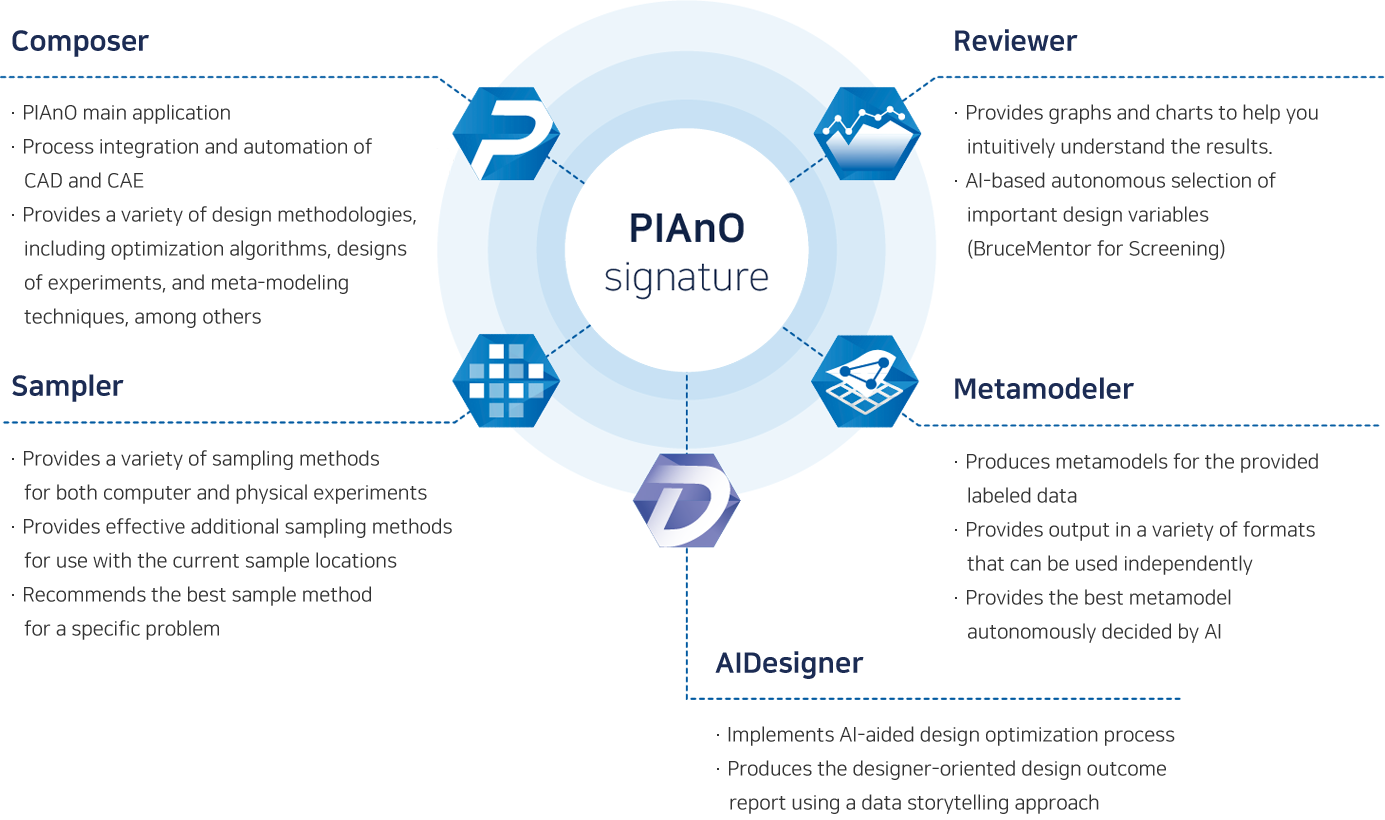 Process Integration and automation

·

Integrate/automate a kind of analysis process in PIAnO for various types of numerical models expressing design targets

·

CAE software and different kinds of scripts including Excel, Matlab and Python

Analysis for design targets (or problem)

·

Numerical analysis of the relationship between input and output variables for design targets

·

It is possible to quantify the effect of input variables impact on output variables

·

Parametric study, design sensitivity analysis, Design of Experiments (DOE), etc.

modeling and evaluation for uncertainty

·

If there exists uncertainty in the input variables of design target, It proceeds modeling processfrom probabilistic point of view to estimate the distribution and analyzes the effect on the output

·

It is possible to quantify and visualize the dispersion of output variables.

·

It is possible to evaluate reliability by calculating the probability for a given condition

Metamodelling

·

It is possible to create a predictive model from the data of input and output for a certain object.

·

The generated predictive model can be used to perform a simple task of predicting the output for a changed input, problem analysis and optimal design process as well.

·

Provides various techniques from traditional technique to machine learning

Optimal design

·

A method of searching for design variables that can maximize or minimize the factors (performance, quality, cost, etc.) within a given design area according to their respective characteristics while satisfying various design constraints.

·

Includes techniques suitable for various types of optimization problems that vary depending on the type of design variable (continuous, discrete, random) and the number of objective functions

·

Provides efficient techniques for minimizing optimization time

Data analysis and visualization

·

Provides tools for various analysis and visualization for a given data

Autonomous generation of comprehensive reports

·

Generates and analyzes data necessary for contribution analysis, conflict analysis and sensitivity analysis by itself to create a comprehensive optimization report that even novice users can understand
PIAnO Signature
process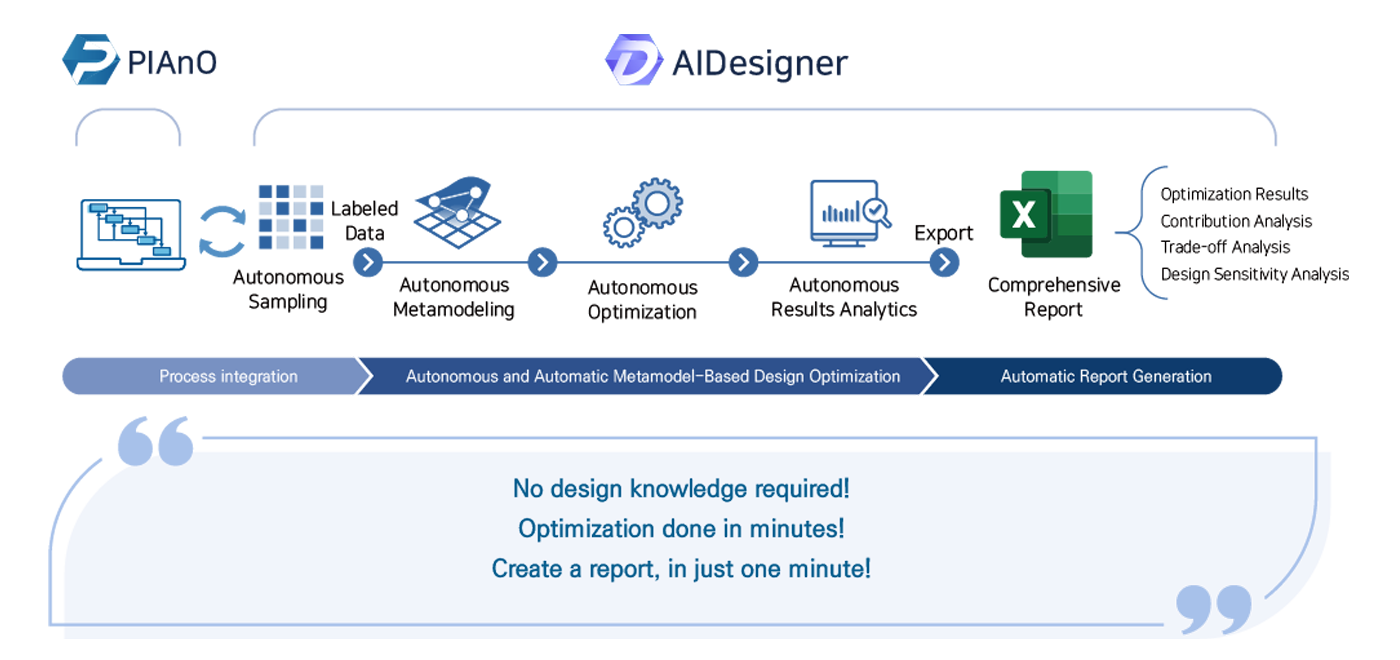 Effects of introducing

PIAnO Signature
PIAnO Signature
It can be easily used in the field and can be easily referenced by the design department.

Efficient time distribution with automated processes even for expensive analysis

The generated comprehensive report enables high-level design and research paper writing

The perfection of product development is improved with the techniques recommended by AI platform, Bruce.
Examples
Car Body

Design Problem

Optimal design of material arrangement that minimizes the weight of the BMW vehicles while satisfying all design conditions for static stiffness

Result

Optimal design of material arrangement that minimizes the weight of the BMW vehicles while satisfying all design conditions for static stiffness

Drum Washer Suspensin System

Design Problem

Optimal design that minimizes deformation while satisfying all design conditions for vibration

Result

Succeeded in reducing the level of deformation by 33% while satisfying all design conditions for vibration.

Torsion Beam Axle

Design Problem

Optimal shape of design that maximizes durability while satisfying all K&C design conditions

Result

Succeeded in improving durability by 56% while satisfying all K&C design conditions

Air-Conditioner Piping System

Design Problem

Optimal shape of design that minimizes weight while satisfying all design conditions for strength, fatigue and vibration

Result

Succeeded in reducing the weight by 18% while satisfying all design conditions for strength, fatigue and vibration